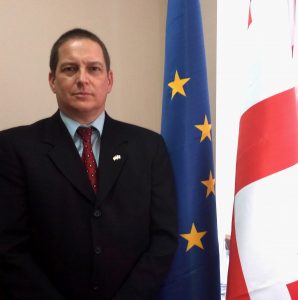 Welcome Address by the President:
South Caucasus and Georgia appear to be geopolitically very important regions, which is why the world's interest in these regions is growing (tourism, enterprises, transit routes, constructions, etc.).
Georgian student mobility to foreign countries is on the rise, and it is becoming increasingly clear that there is a high demand for highly qualified specialists who meet the western standards in all business fields of Georgia.
The current situation in Georgia has raised the question of establishing new educational approaches and methods that, in the modern globalization era, will meet the requirements of international labor markets.
The concept of our educational institution is therefore based on new challenges, the aim of which is, by keeping continuous and close cooperation with foreign experts, to train highly qualified, European-standard specialists, who will have international experience and will be competitive on the international labor market.
Georgia's aspiration toward Europe has significantly stirred up the interest to Europe and European languages.
In Georgia, with its multilingual and multicultural roots and traditions, foreign language learning has always been of particular importance.
Our mission in Georgia is to raise social prestige of the German language and to promote German language learning. Mastering the German language will help young people gain experience in Europe and improve their professional skills, so that they will be competitive, not only in Georgia but also abroad.
A multi-year cooperation between Georgia and Germany within the framework of the European Language Institute "ELI" gave many young people an opportunity to complete an apprenticeship or an internship in Germany.
The concept of the Georgian-German Joint Modular Program provides the completion of a theoretical course along with a practical course with full funding and scholarships in Germany.
Among other things, the aim of the institute through our exchange programs and internships abroad, is to arouse interest in foreign languages, in particular the German language, promote scientific and cultural cooperation with European educational institutions, thus the opportunities of young people in the international labor market will increase.
The Institute of European Languages offers a unique opportunity to complete a vocational education in the international professional settings in Germany and Georgia. Through our highly qualified professors and lecturers, you can acquire not only theoretical knowledge, but also important professional skills through practice in modern knowledge-based activities. The experience, skills and abilities acquired during the training will make you a much-needed specialist who can use all the acquired professional knowledge in a future job at high professional level.
Experience has shown that most of the employers in Georgia prefer job seekers with German practical knowledge. The competence of the participants of our program is confirmed with the corresponding German certificate; they are successfully hired and are the most competitive job seekers on the international labor market as well.
Therefore, more and more young people should have the opportunity to use various international programs of the European Language Institute, including 'Erasmus Plus Program'.
The opportunity to participate in our programs is available to all progressive, hard-working, future-oriented and successful young people.
If you want to be successful, visit the European Language Institute and it will definitely become a success story for you!
Professor,
Harald Christian Hornung
President of the European Language Institute