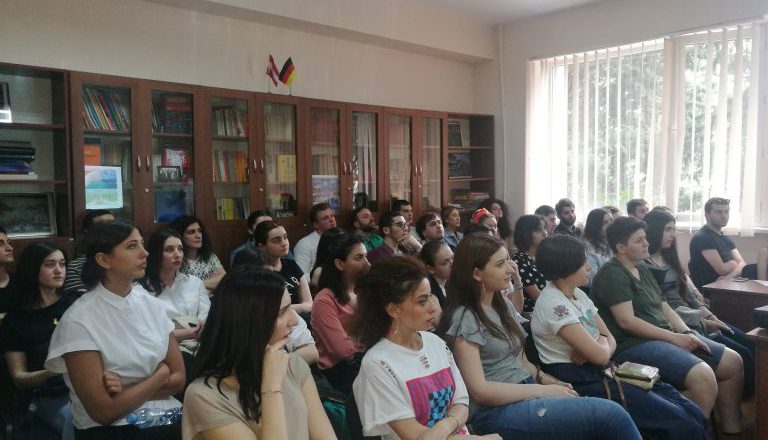 Hotel Management
German-Georgian Joint Modular Program
Dual Education
Admission Requirements – High School
Standard training duration – 3 years
Mandatory internship – 9 months internship in Germany
Education language – Georgian-German
Training places – Georgia / Germany
Short Description of the Program:
South Caucasus and Georgia are geopolitically very important regions, which is why the world's interest in these regions is growing (tourism, enterprises, transit routes, constructions, etc.).
Especially for a country like Georgia, where tourism is so important, the training of appropriately qualified and competitive staff is very important, which also supports our country and promotes the creation of new jobs in the tourism sector.
The concept of our educational institution is therefore based on new challenges, the aim of which is, by keeping continuous and close cooperation with foreign experts, to train highly qualified, European-standard specialists, who will have international experience and will be competitive on the international labor market.
The Institute of European Languages offers a unique opportunity to complete a vocational education in the international professional settings in Germany and Georgia. Through our highly qualified professors and lecturers, you can acquire not only theoretical knowledge, but also important professional skills through practice in modern knowledge-based activities. The experience, skills and abilities acquired during the training will make you a much-needed specialist who can use all the acquired professional knowledge in a future job at high professional level.
In order to broaden the knowledge in the tourism industry, the practical part of the training will be carried out in expensive five-star-hotels in different places in Germany. During the internship, the student will receive a scholarship of € 350, free accommodation and meals.
Entry Date and Application Deadline: September 03 – September 28, 2019
Admission Procedures:
Individuals interested in the International Certificate Program can send the documents to: infoge@.
School Certificate
Copy of ID card
CV with a photo
Motivation Letter
Certificate in English and German (if applicable)
After the selection of documents, an interview with the admissions committee will be conducted.
Selection Criteria:
High motivation
Communication skill
Tuition Fee per Semester – 1500 GEL
An Internationally acclaimed program, flexible tuition payment schedule, a 3-month internship in Germany with full funding and a scholarship, a theoretical and practical course planned in an academic and friendly environment is a prerequisite for your success!
Hurry up, limited seats are available!
Classes Start on October 15
Contact Us:
www.eli.ge